create sassy color combos using tombow markers & color magic
Everything about this fabulous, happy project makes my day! Color Magic makes my day! … cutting down Color Magic folders into mini books makes my day, and even more when you add it to a scrapbook page!  I LOVE this sassy combo of the Sugar Chic and Color Magic!  It's just eye candy to me!
I mostly use overall color on my Color Magic projects, but this week as we are featuring and playing with some different coloring options, namely using Tombow's colored pencils and markers on color magic… it's opening all kinds of POSSIBILITIES!
So, for example… check out how Melissa Stinson throws in a yellow zigzag amid the turquoise… you can't do that with overall inking or misting. I learned some really cool tips reading her insights and instructions:
melissa's fabulous project
When I learned that I was going to be pairing up Heidi Swapp products and Tombow Dual Brush Pen markers for this week's project, I immediately thought of Heidi's Color Magic line- specifically the Color Magic Memory Files that I've been wanting to play with! For this project I cut down one of the folders to use as part of the background on this layout, coloring the non-resist portions to match the Sugar Chic collection.

The folder doesn't just function as part of the background, though! It's actually also a mini album, created by nesting the cut-off portion of the folder inside of the larger section, then stitching and taping the spine.

Hidden mini albums like this one are the perfect place to stash extra photos that you want to include on a layout but perhaps don't have room for, and they're also the ideal place to add photos (or journaling) that you don't want to be particularly visible to just anyone who flips through your scrapbooks. In my case I have a bunch of adorable baby bath-time photos that I'll be adding to this album. We've all got those cute photos, but they're not exactly the types of pictures that we're comfortable blogging to the world or perhaps even having openly visible in our albums. Hidden mini albums solve this problem by providing a slightly out-of-the-way place for those pictures to live.
Heidi Swapp's Color Magic products and the Tombow Dual Brush Pens were a perfect pair, of course, but I found that the colors, while the perfect hue for my page, were a bit too deep and vibrant. Luckily Tombow's markers are water-based, so I was able to use them as watercolors instead!
Turning water-based marker ink into watercolor paint is quite easy- simply scribble with the marker onto a non-porous surface such as the Craft Sheet by Ranger or even an acrylic stamp block (warning- the marker ink may stain the surface, so keep that in mind when selecting one), then load up a paintbrush with a small amount of water and swirl it around in the ink. Test your color and continue adding water until the hue has been adequately desaturated. Once you've reached your desired color, the rest is as easy as watercoloring!

I painted with a slightly different color scheme on the three visible Color Magic panels of the mini album. To create an ombre effect as you paint across (or down) a page, simply add more water to the color you're using each time you finish painting a row (or every few rows). The color will naturally lighten as you work across the page.

To finish off the album, I covered the plain sides of the mini album with more paper from the Sugar Chic collection, and now it's waiting for me to print off the rest of my photos and add them!

Melissa… your project is worthy of those DARLING photos of your sweetie little girl! Thanks for making my day today!! And seriously… I am up playing with my Tombow markers and some water today…and feeling a little artsy! I can't wait to show my creations too!  Thanks Melissa… and thanks to Tombow!
For more ideas using my products along with Tombow markers, be sure to check out a COOL zipper pulls & matchbook style mini books featuring No Limits, shared on the Tombow blog here yesterday.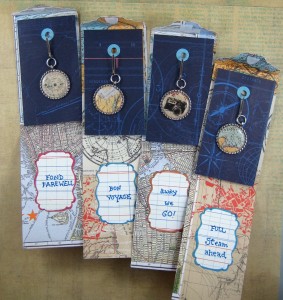 More projects on the Tombow blog throughout the week, and here on my blog Thursday & Friday!